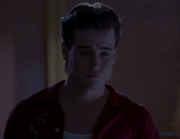 A male student of Liberty High School in 1963. Born 1946 and died 1963. He died on October 31, 1963 at age 17; his picture "in memoriam" appears in the 1963 Liberty High Yearbook.
Amber's sister once rode on the back of Nicky's bike, she was 12.
Ruthie (who's clothes Angela is wearing in Halloween and Connie (Nicky's girlfriend) discuss him in a flashback. Ruthie calls him a loser.
Nicky and Sharon's uncle's friend were in the same class.
There are two accounts of his death. One was that he and his friends were painting the gym black and he was on the rafters and fell onto a girl's high-heeled shoe, the heel of which entered his skull through his nostril. The other was he was hanging a banner that declared his love for a girl. In the flashback we see Billy and Nicky planning to hang a dummy of Principal Edwards. Sharon's uncle said that on the night he died there was a storm and the electricity went out on the exact moment he died.
Behind the Scenes
[
]
Nicky was played by Andrew Kavovit.